Say No to Distractions – Yes to Your Kids!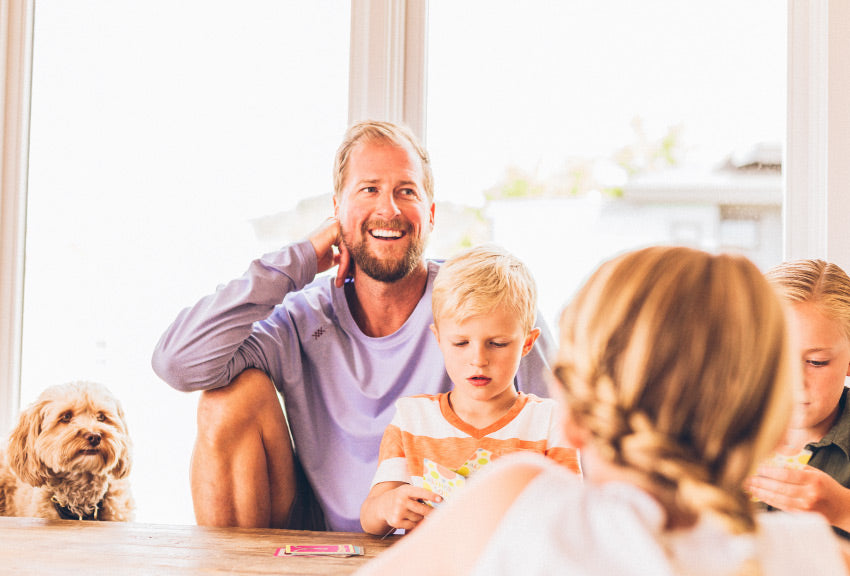 Today's generation of Christian parents are fighting an uphill battle to keep family a top priority. Even with the best of intentions, moms and dads must figure out strategic ways to navigate through all the cultural pressures of fast-paced lifestyles, excessive screen time, and over-booked schedules. Slowing down and setting aside time for family requires discipline and a willingness to say "no" to the growing number of societal distractions and temptations.
But we must recognize that simply gathering the family in one location is not the ultimate goal. We've all witnessed groups of people gathered at coffee shops and restaurants where everyone's looking down at their smart phones and ignoring one another. …. that's NOT the picture we want to see in our homes.
What we're striving for is eye contact, strong relational connections, and bonding opportunities. But for this to happen, we must be intentional about tearing down barriers like phones, computers, TVs, and any work we may have brought home. Our family is important, so they deserve our undivided attention.
Why is it so important to bond with our kids? Because God has called us to train and bring them up in the discipline and instruction of the Lord (Proverbs 22:6, Ephesians 6:4). They're a heritage from the LORD (Psalm 127:3) and we're commanded to teach them diligently (Deuteronomy 6:7) and train them to be disciples of Jesus (Matthew 28:19).
And let's keep in mind that our training will be most effective when our children see us living out our faith and practicing what we preach. In other words, they will be much more likely to take our instruction to heart when they see mom and dad "being doers of the word and not just hearers only" (James 1:22).
If you're struggling to find quality time with your kids, here are three "back-to-basics" practices that can help you strengthen family connections.
1. Eating Dinner Together
Studies confirm that eating dinner as a family greatly benefits our children – both mentally and physically. Sitting around a table and breaking bread together allows everyone to focus on one other.
If you aren't sure what to talk about, you might consider starting a conversation with a couple of probing questions. For example, you might ask your kids to share a few of the highs and lows of their day. And then look for those special teaching moments when you can dig a little deeper and ask, "so what do you think God is teaching you?" This can lead to divine opportunities to encourage them and share promises from God's Word.
2. Doing Outdoor Activities Together
Look for creative outdoor activities that involve the entire family. Outside projects, sports and recreational activities are physically and mentally beneficial for adults and children alike. Whether it's hiking, biking, swimming, or just running around in a nearby park, put those phones away, get some exercise, and have fun! And for those getaways with more natural surroundings, look for opportunities to point out the many spectacular aspects of God's creation.
3. Listening. REALLY Listening
We should consider it a blessing when our kids want to talk to us. But we must also remember that they're smart enough to discern when we're really listening to what they're saying, or distracted, and just pretending to listen. When we develop disciplined listening habits, we can "hear their hearts", help them work through their struggles, encourage them in their areas of giftedness, and steer them toward God's calling for their lives.
Behold, children are a heritage from the Lord, the fruit of the womb is a reward. Like arrows in the hand of a warrior, so are the children of one's youth. Happy is the man who has his quiver full of them; they shall not be ashamed, But shall speak with their enemies in the gate. (Psalm 127:3-5
Leave a comment
Comments will be approved before showing up.